"Ukrainian Energy Machines" PJSC is an enterprise with growing business with clearly stated goals as for technical reequipment, increase of production scopes, renewal of output products and "driving belt" of these processes is the personnel of the joint stock company.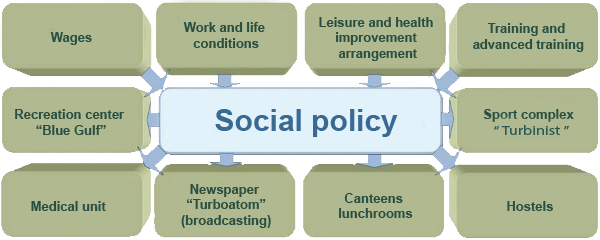 Participation of an employee simultaneously in all social programs: pensionary and housing savings, medical insurance and out-patient and policlinic service, benefits for catering at the enterprise and payment of tickets, compensation for vouchers cost for treatment and rest etc. can yield an additional income for him in amount of 3 average monthly salaries annually.
Identification of an employee's personal goals to the enterprise's goals through realization of his own business-process intends integration of the personnel for achieving goals of the joint stock company, settling mutual relations of the stockholders and personnel and preventing social disputes as well.
Besides, social policy based on such principles is called to assist in making a positive public opinion of the enterprise.
Solution of the task as for identification of an employee's personal goals to the enterprise's goals is the main objective of the social policy.
It is provided for normative documents as for application of privileges and guaranties, realization of social programs including business-process for the enterprise's employees.